Car Finance Explained
There's nothing quite like taking delivery of a new car. So whether you need something bigger, are looking to upgrade, or are simply after something a little different we have a solution for you.
Personal Contract Purchase
What is the product?
Personal Contract Purchase or PCP as it is known, is a highly flexible plan designed to let you change your car on a regular basis.

With PCP you have three elements to consider: the deposit; the length of the agreement; and the optional final payment.

The minimum loan amount is typically £3,000 - You decide what level of deposit, if any, you want to put towards the purchase of your car, up to a maximum typically of 40%. You also decide your repayment period (typically 24, 36 or 48 months). Finally you set your anticipated annual mileage, which can range from 6,000 to 30,000 miles per annum and this will determine the optional final payment.

Your interest rate is fixed and you make fixed monthly repayments. At the end of your monthly repayment period you have three choices: RETURN; RETAIN or RENEW.
Return - You can hand the car back to the finance company, with nothing further to pay (subject to mileage and condition).
Retain - You can pay the optional final payment and the car is yours.
Renew - You can part exchange the car, using any equity over and above the optional final payment as deposit on your next car. Equity cannot be guaranteed.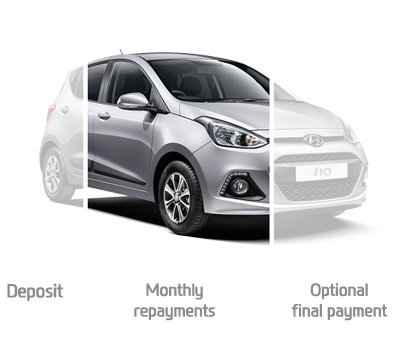 You will not own the vehicle untill all payments are made. Finance subject to status. Terms and conditions apply. 18s or over. Guarantee/Indemnity may be required by the Finance provider.
You will be responsible for any loss of, or damage to ot deteriorationof the goods except through fair wear and tear.
What is contract hire?
Contract hire - also referred to as a vehicle operating lease - is a funding product available to sole traders, partnerships or limited companies. Under contract hire and leasing we lease you a vehicle for a fixed period (12 to 60 months) and mileage, in return for a monthly fee. At the end of the contract you simply return the vehicle, without further cost, providing that the vehicle has not exceeded the agreed contract mileage and that its condition is reflective of its age and mileage.

How does it work?
The finance company accept responsibility for the vehicle(s) in return for a fixed monthly fee. This fee covers the depreciation, vehicle funding and administration costs involved in financing the vehicle. Additional fees can apply if you choose a maintenance-inclusive contract, which is a service whereby the finance company will pay for standard servicing and maintenance work arising during the contract period. It's important to understand that you are buying a service, not the vehicle itself when you opt to fund via contract hire. It is important to view the whole offer for example, quality customer service and back-up support are key considerations, not only the rental.

What are the benefits?
Contract hire can offer benefits to you in three principal areas: finance, administration and operational efficiency:
Improves return on investment.

Improves cash flow.

Additional source of funding.

Benefit from big fleet purchasing power.

No need to source the vehicles yourself.

Eliminates vehicle disposal problems.

Reduced vehicle administration.

Automatic annual vehicle excise duty renewal (subject to contract type).

Assurance of constant mobility (subject to contract type).

No need to scrutinise maintenance bills or negotiate with garages (with maintenance-inclusive contracts).

No maintenance cost risk (with maintenance-inclusive contracts).
Uknewcars is a trading name Vehicle Procurement Solutions Ltd. Vehicle Procurement Solutions Ltd is authorised and regulated by the Financial Conduct Authority for credit broking activities with firm reference number: FRN622159.
Vehicle Procurement Solutions Ltd is not a lender or car finance provider. We provide credit broking services only with lenders which are affiliated to the car dealers we trade with.